Ahoy there, mate! Do you feel like having some sun-filled fun? The best beach in Australia is Mindil Beach, so look no further (if we do say so ourselves). Mindil Beach, which is situated in Darwin's tropical paradise, is the ideal place to catch some waves and soak up some sun. But it's more than simply a beach—a it's way of life.
The sun is first and foremost. Make sure to apply sunscreen liberally (SPF 50+ is advised) because Mindil Beach is infamous for its sweltering temperatures. You don't want to become one of those unfortunate tourists who neglected to pack their caps, believe us. Bring a cooler filled with ice-cold beers to remain hydrated (and to impress all the locals).
At Mindil Beach, though, it's not all work and no play. No matter if you like action or relaxation, there is enough to do. There are several shady places to lounge and catch up on your reading for the more relaxed beachgoers. Alternately, if you're up for it, you can participate in a game of frisbee or beach cricket. Just keep an eye out for the seagulls, who will quickly grab your treats.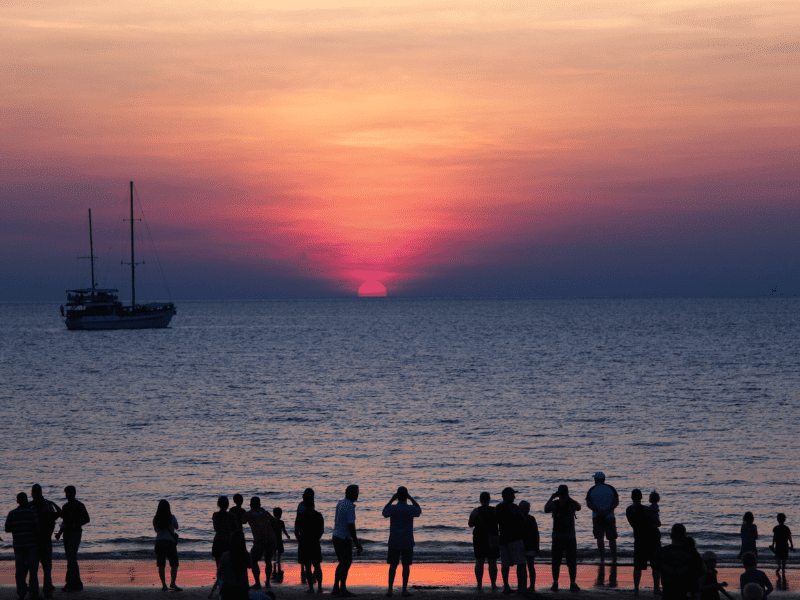 Let's now discuss the sunset, which is the true star of the show. Nothing compares to the experience of watching the sun set over the Timor Sea at Mindil Beach. It's breathtaking and the ideal way to cap off a day of outdoor recreation. Additionally, a bustling night market by the beach allows you to explore locally manufactured items and sample a variety of excellent foods.
In summary, Mindil Beach is the ideal location for a sunny vacation. So grab your buddies, a six-pack of Foster's, and your sunscreen, and head on down to Australia's best beach. Cheers!
2022 All rights reserved. Without australiadestinations.com prior written consent, no portion of this publication may be duplicated or transmitted in any way, whether it be electronically, mechanically, photocopying, recording, or otherwise.